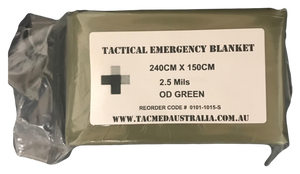 Tactical Emergency blanket - OD Green
Regular price $10.95 Sale inc GST
TacMed's Tactical Emergency Blanket is made from a certified space technology proprietary LDPE plastic which is thicker and more durable to standard space or emergency blankets.
Not only are our Tactical Emergency Blankets stronger and thicker, but they are quiet, easy to open, and with the OD Green side facing outwards it won't blind you in the sun!
Features:
5 mils thick (double the thickness of standard)
OD Colour on one side and silver on the other
Longer and wider than standard space blankets
Won't rip or tear with small knicks in the blanket
proprietary Met-LDPE blankets are much softer and quieter than competing brands made from Mylar or the cheaper metallized polypropylene, which rattle with every movement or wind
Recyclable
You can even fold them!